Tamara is a character in the first season of Soy Luna. A skater herself, she runs the Jam & Roller skating rink. When she's not busy planning an Open Music or running the business, she is training her team for the next big skating competition.
She is portrayed by Luz Cipriota.
Personality
Tamara is very organized and responsible. She always keeps Pedro and Nico in check, keeping them from getting distracted. Tamara is hard-working and aware of everything going on in her rink. She cares deeply about Luna, since she is risky, and ready for anything. She tries to keep an eye on her to keep her safe.Tamara Is A Very Good Trainer With A Loving Heart.
History
Before the Show
Tamara was once a competitive skater and landed a triple axel in competition. At this competition, she meet Mariano, whom she later started to date. They both worked as skating coaches and traveled to Europe together.[1] The relationship didn't end well, and Mariano moved away to Spain.[2] It has been a few years since Tamara has dated when the show begins.
Season 1
Tamara works at Jam & Roller and is the boss of Nico and Pedro. She hires Luna to be the new rink assistant after a quick skills test, and hires Simón as an event manager and waiter after he proves useful in the cafeteria.
As the manager of Jam & Roller, she introduces all the Open Music acts and Freestyle Competition duos. Occasionally, she will do a performance herself on skates to commence a competition.

Pedro never gets the chance to to tell her himself, but Tamara discovers that he has a crush on her and lets him down gently, thinking he is too young for her. Later, despite having initial doubts about their compatibility, Tamara begins a relationship with Ricardo Simonetti. They work surprisingly well together, but their relationship is put to the test when Tamara's ex Mariano returns to Buenos Aires, and Tamara ends the relationship with Ricardo.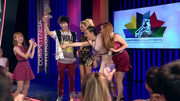 Unbeknownst to Tamara, Mariano has returned to get revenge on her for breaking his heart, and he tries to sabotage her skating team. He convinces her to make him a co-trainer for the Jam & Roller Skating Team and manipulates two of her skaters into thinking Tamara is against them, bringing them to his team Power and Speed. Mariano also hid a skill requirement for the competition from Tamara, leaving her team unprepared for the final. With the help of Luna, Tamara is able to bring back the two skaters and prepare the necessary skill to bring her team to victory.
Season 2
At a special surprise event at Jam & Roller, Tamara announces that she will be leaving the country to continue exploring. She leaves the cafeteria and Open Music responsibilities to Vidia and Santi Owen, and entrusts Luna with coordinating the rink and skating team.
Relationships
Romances
Trivia
Mariano mentions that Tamara has done a triple axel in competition. In figure skating, a triple axel is the most difficult jump to perform, and only 11-13 women have ever landed it in competition.[3][4] Furthermore, it's even harder to jump on roller skates than ice skates because of the weight of the wheels. Tamara's ability to perform a triple axel would make her one of the best artistic skaters in the world.
She likes heavy metal music.[5]
She is afraid of heights, which she refers to as vertigo.[6]
She is the first female main character to depart the series, followed by Amanda and Mora Barza and the first main character overall.
Gallery
| | |
| --- | --- |
| | To view the Tamara gallery, click here. |
References
Community content is available under
CC-BY-SA
unless otherwise noted.