Explore
About the Show
In Soy Luna, we meet Luna Valente, a girl with a big passion for skating. She lives in Cancún, Mexico with her family, has her friends and hobbies, and is very happy with her life. However, her life turns upside down when her parents are offered a job which moves them to Buenos Aires, Argentina. Here Luna will meet new friends, enemies, and maybe the love of her life?
Read more about the show here.
Trailer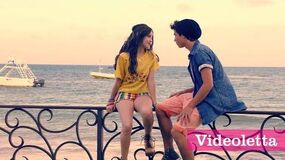 Watch the trailer for Soy Luna with English Subtitles!
Current Birthday
Agustín Bernasconi's birthday is today! Make sure to wish him a happy birthday!
Featured Article

Katja Martínez is an Argentine actress, model, and the daughter of Argentine rock legend Ciro Martínez of Los Piojos. Martínez made her stage debut in 2014 in the musical Criatura emocional. The next year, she was announced as a part of the cast of the juvenile telenovela Soy Luna. Since then, Martínez has made guest appearances on Argentina, tierra de amor y venganza and Disney's BIA. On October 27, 2019, Martínez gave birth to her first daughter Helena.