Pedro Arias is a character on Soy Luna. He is portrayed by Gastón Vietto.
Personality
Pedro is honest and an open book. He is willing to give it all for his friends. Around girls he can be shy and insecure. He loves playing the drums, and is at his best when rehearsing with his band.
History
Season 1
He works at Jam & Roller with Nicolás and Simón Álvarez as a cook and general cafeteria worker. He creates a band with Simón Álvarez and Nicolás and plays the drums.
Relationships
Friends
Best Friend/Bandmate
See: Pedrico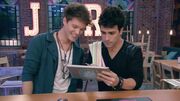 Nico and Pedro are best friends. They have both told each other who they like and Nico often does things for Pedro.
Good Friend/Bandmate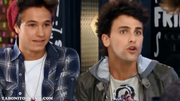 Pedro and Simón are good friends. They are in a band together along with Nico. They both work in Jam & Roller and in food service.
Friend
See: Pedrina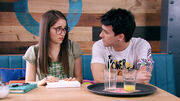 Pedro and Nina have had many times together and could be said to be quite alike each other. For instance, they both often feel invisible.
Romances
Girlfriend
See: Pelfi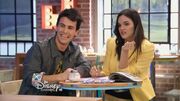 Pedro and Delfina are friends. Although, at the start of the series, Delfina did not think much of Pedro, his kind and caring nature led him to care for Delfina and start helping her with her feelings towards Gastón. Jazmín has asked Delfina if they are just friends, or something more, but she said they are just friends. Delfina has admitted to Nico that she likes Pedro. As of Season 1/Episode 76 and Season 1/Episode 77, they have been on a date and are dating.
Former Crush
See: Tamedro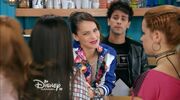 Pedro had a crush on Tamara. He once informally told her, but she didn't get it. Tamara has once called him a gentleman. Pedro asked Tamara out and prepared a date for her, but she cancelled it and told him he was way too young for her.
Trivia
He found the skate tool Ámbar used to loosen Luna's skates.
He admits in "Una mala calificación, sobre ruedas" that he likes Tamara.
Pedro can be assumed to be older than the rest of the main cast because he has a crush on Tamara, an adult; does not attend Blake South College; and works all day at Jam & Roller.
He likes FelicityForNow's (Nina's) posts.
He is often seen in the background, working during scenes at Jam & Roller.
He does not think he is a good skater. Delfina believes Pedro can skate very fast and Ámbar thinks that he doesn't show any passion when he skates.[1]
He takes cooking lessons.[2]
One of his ears is pierced.
He can't play the piano.
He has a picture of him with his mom and dad on the fridge.
He gets along very well with his best friends, and considers them more like brothers than friends. But they often fight about who's cleaning the apartment.[3]
He hates spicy food.[3]
He likes to watch football, but is very bad at playing it himself.[3]
He likes to do the robot dance.[3]
He has a pair of lucky drumsticks that's "magically" always with him.[3]
In the second season of Bia, it is revealed that Delfi and Pedro broke up sometime after the events of the third season.
Gallery
| | |
| --- | --- |
| | To view the Pedro Arias gallery, click here. |
References
Community content is available under
CC-BY-SA
unless otherwise noted.