"

I have a heart in my heart. I have so much to give you.

"
Nina Simonetti is a secondary character on Soy Luna. Nina is shy and unsure of herself, but is able to express herself behind the screen with her blog FelicityForNow. She can't skate, but she spends all day at Jam & Roller studying and hanging out with her friends.
She is portrayed by Carolina Kopelioff.
Personality
Nina is intelligent and curious. She has a large and sophisticated vocabulary, and a superior brain to many others her age. She is interested in everything and loves to study. Her parents are very different, causing her to act differently around them. Nina is also very shy and introverted. Despite this, she enjoys going to Jam & Roller after school but is too afraid to skate. Nina prefers to go unnoticed because she is afraid to interact with others.
Nina used to be a lively child, but her parent's divorce had a strong effect on her confidence.
History
Season 1
Part 1
She quickly becomes friends with Luna after Luna moves to Buenos Aires. Their friendship grows stronger and she becomes friends with Jim and Yam, along with Luna.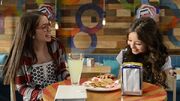 Nina's confidence shows signs of increasing, although she is still afraid. To fight Fab and Chic, Nina starts an anonymous account under the name of FelicityForNow and posts inspirational messages which she is afraid to say out loud.

As the part progresses, she spends more time with her crush, Gastón. They are in the same photography seminar and share a similar point-of-view. As Felicity, Nina starts talking to a second anonymous account named RollerTrack, who is actually Gastón. He is enamored with her posts and falls in love with her, but is unaware of her true identity. RollerTrack stops texting her because Delfina tells him that she is Felicity, which leaves Nina sad about their abrupt halt in communication. She cheers up when she meets a nice exchange studen named Xavi in Puerto Madero, though. They share a lot of the same interests and get along well, but by the end of her trip, Xavi must return to Brazil.
Part 2
Nina's confidence begins to grow more.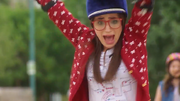 She starts skating in Jam & Roller, and with the help of Gastón, learns how to skate quite quickly. After learning how to skate, Nina becomes a part of Luna's team for the Intercontinental Skating Competition. However, in an attempt to sabotage Luna, Ámbar, Jazmín and, Delfina put soap on the ground to make Nina fall. This plan works, making Nina break her arm. Luckily, Luna and Nina manage to convince Nico to take her place.
Nina later sets up a date with Gastón, who she has now learned is RollerTrack, as Felicity. With Luna's help, Nina wears a costume and pretends to be Felicity and goes on a date with Gastón via webcam. However, Luna falls into view and Nina ends the date in a panic.
Nina tries to tell Gastón that she is Felicity, but without success. Meanwhile, Gastón starts to fall for her. At Ámbar's party, Nina posts a photo in Luna's room and Gastón goes upstairs to find her. He covers his eyes and the two share a romantic dance.

Nina decides to sing at Open Music as Felicity, and everyone loves her performance. In a surprise move, she removes her wig and reveals that she is Felicity. She is immediately surrounded by fans, and Gastón tries to go up and talk to her, but Ámbar stops him. Meanwhile, Luna pulls Nina out of the crowd. Ámbar tries to stop Nina and Gastón from getting together by creating a big misunderstanding, but ultimately, her plan fails. In the season finale, Nina and Gastón confess their feelings to one another and share their first kiss.
Season 2
Part 1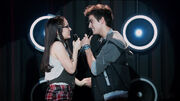 Gastón brings Nina even further out of her shell and gets her to sing "Mitad y mitad" with him at the first Open Music of the year. When Gastón decides to stay close to Nina after graduation rather than go to Oxford, Nina sends in an application for him. Gastón is angry at her for undermining his decision and doesn't forgive her for going behind his back.
Part 2
Xavi returns to Buenos Aires and wants to get together with Nina. Their past issues combined with Gastón's jealousy when he sees Xavi with Nina leads to the couple officially breaking up. With the door open, Xavi tries to move in on Nina, but she stops the relationship from progressing when she realizes she can't get over her feelings for Gastón.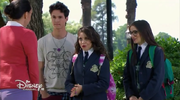 Nina and Gastón get back together and decide to do long-distance when Gastón moves away.

Nina moves into Mora's house with Ana while her mom's apartment is getting work done. After the repairs are finished, the mom and daughter decide to stay with Mora anyway. Nina also helps Luna research her past and comes to the realization that Luna is Sol Benson, although she doesn't tell Luna before she finds out herself.
Season 3
Part 1
Luna leans on Nina heavily in the beginning of the season as Luna adjusts to being Sol Benson and all that comes with the name. Nina and Gastón struggle with long-distance and eventually break up after he comes to visit her in person. Nina's not alone, though, as the new rink assistant Eric Andrade immediately takes a liking to her and writes the song "Mi corazón hace wow wow" to express his feelings. Jazmín touts the possible new couple as "Niric."
Part 2
After some time, Nina and Eric begin a relationship. Gastón calls Nina and tells her he is happy for her, and the couple continues on without any road blocks. Nina performs with Jam & Roller at River Live Fest.
Relationships
Romances
Friends
Trivia
Nina's last name, Simonetti, is Italian.
In the book El viaje comienza, it is revealed that she is part Puerto Rican.
She likes video games and plays them with her father.
She had four different pairs of glasses in Season 1, one pair with solid red frames, one pair with solid black frames, a pair with transparent frames, and one pair with the frame only on the top.
Her fashion style is described as "Geek Chic".[1]
Season 1/Episode 53 is the first episode where she can be seen skating.
Her favorite color is blue.[2]
She wrote some of the lyrics for "Un destino" and "Invisibles".
When she was six years old, she loved chocolate ice-cream, and whenever she had a problem, eating it cheered her up.
She likes to give advice to people, but often refuses to follow her own thoughts.
Her first kiss was with Gastón.
In the pilot for the UK dub of Soy Luna, she was voiced by Zoe Zak.[3]
According to Jazmín, Nina is a Gemini, which would mean that she is born sometime between May 21 and June 21.[4]

This would also suit her personality, as Geminis are described as "gentle, affectionate, extremely curious, adaptable, able to learn quickly and exchange ideas." but also as "nervous, inconsistent and indecisive.". They are also described as liking books and music, and being very fascinated by the world around them.[5]

She didn't know how to ride a bike in Season 1.[6] But by Season 3, she is suggesting a bike-riding date with Eric, so she learned how to sometime during the series, just off-screen.[7]
Nina appeared in almost every episode of the series, save for Season 3/Episode 34.
Gallery
| | |
| --- | --- |
| | To view the Nina Simonetti gallery, click here. |
References
Community content is available under
CC-BY-SA
unless otherwise noted.