Nina Simonetti is a character in the Disney Channel Latin America show Soy Luna. She is portrayed by Carolina Kopelioff.
Personality
Nina is intelligent and curious. She has a large and sophisticated vocabulary, and a superior brain to many others her age. She is interested in everything and loves to study. Her parents are very different, causing her to act differently around them. Nina is also very shy and introverted. Despite this, she enjoys going to Jam & Roller after school but is too afraid to skate. Nina prefers to go unnoticed because she is afraid to interact with others.
History
Season 1
Part 1
She quickly becomes friends with Luna after Luna moves to Buenos Aires. Their friendship grows stronger and she becomes friends with Jim and Yam, along with Luna. Nina's confidence shows signs of increasing, although she is still afraid.
To fight Fab and Chic, Nina starts an anonymous account under the name of FelicityForNow and posts inspirational messages which she is afraid to say out loud.
As the part progresses, she spends more time with her crush, Gastón. Nina starts talking to a second anonymous account named RollerTrack, who is actually Gastón, as Felicity. He loves her posts and he starts to love her, although not knowing that he is actually in love with Nina.
Part 2
Nina's confidence starts growing more. Nina stays quiet for the first few episodes, but she later finds more confidence in herself. She starts skating in Jam & Roller, and with the help of Gastón, learns how to skate quite quickly.
After learning how to skate, Nina becomes a part of Luna's team for the Intercontinental Skating Competition. However, in an attempt to sabotage Luna, Ámbar, Jazmín and, Delfina, put soap on the ground to make Nina fall. This plan worked, making Nina break her arm. Luckily, Luna and Nina managed to convince Nico to take her place.
Nina later sets up a date with Gastón, who she has now learned is RollerTrack, as Felicity. With Luna's help, Nina wears a costume and pretends to be Felicity and goes on a date with Gastón via webcam. However, Luna falls into view and Nina ends the date in a panic.
Nina tries to tell Gastón that she is Felicity, but without success. Meanwhile, Gastón starts to fall for her. At Ámbar's party, Nina posts a photo in Luna's room and Gastón goes upstairs to find her. He covers his eyes and the two share a romantic dance.
Nina decides to sing at Open Music as Felicity, and everyone loves her performance. In a surprise move, she removes her wig and reveals that she is Felicity. She is immediately surrounded by fans, and Gastón tries to go up and talk to her, but Ámbar stops him. Meanwhile, Luna pulls Nina out of the crowd. Ámbar tries to stop Nina and Gastón from getting together by creating a big misunderstanding, but ultimately, her plan fails. In the end of the season, Season 1/Episode 80, Nina and Gastón confess their feelings and share their first kiss.
Relationships
Friends
Best Friends
See: Lunina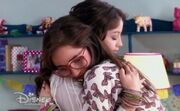 Luna met Nina in the locker room in Jam & Roller and talked. They became very good friends as they got to know each other. In Season 1/Episode 11, Nina got Luna out of the room she was locked in by Ámbar. Luna was one of the first people to know that Nina is Felicity.
Friends
See: Pedrina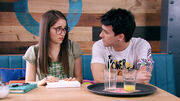 Pedro and Nina have had many times together and could be said to be quite alike each other. For instance, they both often felt invisible.
Romances
Ex-boyfriend
See: Gastina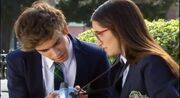 Gastón and Nina are dating. Gastón has called Nina emotionally moving and said that he liked a line that she told Pedro. Gastón has also given Nina her book back. Gastón, unknowingly, talks to Nina every day as RollerTrack. He often talks about FelicityForNow, Nina's online account, and seems to be in love with her. As of Season 1/Episode 50, Nina knows that Gastón is RollerTrack, and Gastón finds out that Nina is FelicityForNow in Season 1/Episode 75. They then kiss for the first time in Season 1/Episode 80.
Friends/Former crushes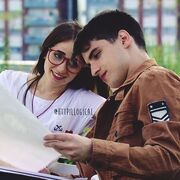 Xavi is a Brazilian boy who Nina met in the park while taking pictures. He was inspired to draw her as he saw her. They quickly starts talking about the relationship between photography and drawing, and he is impressed by her eloquent tone of speech. He likes her and she likes him too, despite her feelings for Gastón.
Trivia
Season 1/Episode 53 is the first episode where she can be seen skating.
Nina's last name, Simonetti, is Italian.
In the book Soy Luna: El viaje comienza it is revealed that she is part Puerto Rican.
She likes video games, and she plays them with her father.
Although she is shown to be smart and a bit geeky, she is also shown as a gamer girl when she's with her father.
She was once given earrings from Jazmín, for "fashion".
She has four different pairs of glasses, one pair with solid red frames, one pair with solid black frames, a pair with transparent frames, and one pair with the frame only on the top.
Nina is FelicityForNow.
Her fashion style is described as "Geek Chic".[2]
In Season 1/Episode 43, Nina sang for the first time.
Her favorite color is blue.
She wrote some of the lyrics for "Un destino" and "Invisibles".
When she was six years old, she loved chocolate ice-cream, and whenever she had a problem, eating it cheered her up.
She likes to give advice to people, but often refuses to follow her own thoughts.
In Season 1/Episode 75, Nina reveals herself to be FelicityForNow during an Open Music.
She had her first kiss with Gastón, and so far he is the only one she has kissed.
In the UK dub, she will be voiced by Zoe Zak.[3]
At the start of the series, she was quite naïve.
According to Jazmín, Nina is a Gemini, which would mean that she is born sometime between May 21 and June 21.[4]

This would also suit her personality, as Geminis are described as "gentle, affectionate, extremely curious, adaptable, able to learn quickly and exchange ideas." but also as "nervous, inconsistent and indecisive.". They are also described as liking books and music, and being very fascinated by the world around them.[5]
Gallery
| | |
| --- | --- |
| | To view the Nina Simonetti gallery, click here. |
References
Community content is available under
CC-BY-SA
unless otherwise noted.