Mora Barza is a secondary character in Soy Luna. She is a free-spirited fashion designer that brings balance to her high-strung best friend Ana.
She is portrayed by Paula Kohan.
Personality
Mora is a free soul that doesn't believe in stringent things like marriage. Every day is a new day and a new chance to her. She wants to travel and see the world. She doesn't like rules and things holding her and people she knows back. She is very supportive and often encourage others to be brave and follow their dreams. She can be very wise and is often the voice of reason when her best friend Ana is fretting over something she is too stubborn to let go of, often concerning Nina.
History
Before the show
Some time before the show, when she was about Nina's age and before she entered university, Mora was an exchange student in Berlin, Germany. She had a lot of fun, made many friends, discovered more about fashion, and learned how to speak German.
Season 1
She is a fashion designer and Ana's best friend. When Luna's in a bad place, she helps Luna believe in herself and gives her strength to keep going.
Season 2
Mora lets Ana and Nina stay at her place while their apartment is getting work done. Ana and Nina end up loving it so much that she lets them stay even after their apartment is finished.
Relationships
Friends
Best friend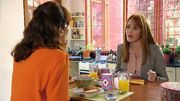 Mora and Ana are polar opposites. Mora is very free-spirited while Ana is very structured and orderly. Mora supports Nina to try her wings, while Ana is afraid to let go and can be a bit close-minded sometimes. They complement each other well. Ana can help Mora see things from another perspective and Mora helps Ana not to be so close-minded and try new things. They are often seen exercising together. They often consult with each other about their problems and have been friends for a long time.
Romances
Ex-boyfriend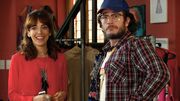 Mora and Ricardo are friends, however she is shown to have some feelings for Ricardo, despite being best friends with Ana, Ricardo's ex-wife.
Trivia
She is the last main character to be introduced in Season 1.
Despite being a main character, her appearances were relatively infrequent, having appeared only seven times in the first part of Season 1.
The actress who portrays Mora, Paula Kohan, is also a fashion designer just like her character.
She dressed up as FelicityForNow to help Nina hide her secret.
Mora is the only character that was demoted from being a series regular in Season 3 to make an appearance in Season 3.
Gallery
| | |
| --- | --- |
| | To view the Mora Barza gallery, click here. |
Community content is available under
CC-BY-SA
unless otherwise noted.