"

I'm free, I'm me, I'm Luna!

"

— Luna
Luna Valente (born Sol Benson) is the titular character of Soy Luna. She is a sweet and kind girl from Mexico who loves her family and friends. With talent and determination, she can do anything she puts her mind to. She is the daughter of Lili Benson and Bernie Benson, but was adopted by Mónica and Miguel Valente at the age of 2.
She is portrayed by Karol Sevilla.
Personality
Luna is simple, sweet, determined, kind, authentic, and unafraid. She has a good heart but gets distracted sometimes. Her passion is skating, but she also enjoys singing and dancing. She values her family and her close friends. Luna tries to be nice, but can sometimes get annoyed.
History
Early Years
Luna was born as Sol Benson, daughter of Lili and Bernie Benson. She's Sharon's niece and Alfredo's granddaughter. Sol spent her first two years living in the Benson Mansion with her parents and her aunt.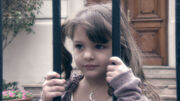 She was loved and adored by everyone. The little girl became an orphan at a young age when her aunt accidentally started a fire in the mansion, leaving Sharon and Sol as the sole survivors. The young Sol survived thanks to Roberto Muñoz, one of the household's staff members who saved her. In the process of getting out of the quickly burning house, Sol lost one half of her locket, which Roberto later kept. Roberto brought the young girl to Mexico City where she was adopted by Miguel and Mónica, who gave her the new name Luna, after the locket she wore around her neck.
Due to her young age when being adopted, she only has very few and vague memories of her life as Sol, and considers Miguel and Mónica as her real parents, since they are the ones who raised her. One of the earliest recollections she has is watching her mother Lili drawing a picture with the phrase "There is always a light to guide you. The sun will always rise again."
Season 1
Part 1
Luna is a teenage girl who works at Foodger Wheels with her best friend Simón Álvarez. In her free time, she loves to speed skate around Cancún, which makes her feel free and uninhibited.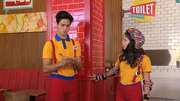 Near the end of school break, the wealthy Sharon Benson visits Cancún with her goddaughter, Ámbar Smith, and Ámbar's boyfriend Matteo Balsano. En route to deliver food to Ámbar, Luna runs into Matteo on the streets, and they begin to flirt. He aptly begins to call her Chica Delivery. After she continues on, she meets Ámbar and spills food over her swimming attire. Ámbar immediately takes a disliking to Luna, and trips her, making Luna fall into the pool. Matteo jumps in and saves her from drowning, making Ámbar jealous and solidifying her hate towards Luna. On the same day, Sharon makes an undeniable job offer to Luna's parents, after refusing the offer Sharon threatens to fire Luna's parents, forcing the Valentes to relocate to Buenos Aires, Argentina.
In Buenos Aires, Luna's life is turned upside-down. She is introduced to freestyle skating at Jam & Roller, a form of skating that puts dancing on wheels. She meets her new best friend Nina Simonetti here and receives a new job as a rink assistant from Tamara. On Sharon's dime, Luna attends an elite private school named Blake South College with Ámbar, Matteo, Nina, and her new friends Jim and Yam.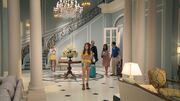 In addition, Luna must live with her enemy Ámbar in the cushy, Zona Norte Benson Mansion. Ámbar is dead-set on ruining Luna's life and schemes against her by sabotaging her skates, switching her assignments at school to make her fail, and locking her up in a room at Blake. Luna stays in touch with Simón but continues to miss him more and more, but that is soon put to rest when Simón packs up and moves to Buenos Aires to be closer to Luna. With Simón, Luna performs in her first Open Music and competes in a freestyle skating competition at Jam & Roller. At Blake, Matteo continues to flirt with Luna while still being in an on-again-off-again relationship with Ámbar. At an Open Music, Matteo even replaces Ámbar with Luna as his singing partner when Ámbar fails to show up on time. Not only does this make Ámbar even more jealous, but it also makes Simón jealous, as he is realizing that he has romantic feelings for Luna.
Simón and Luna make it all the way to finals in the skating competition, along with Matteo and Ámbar, and travel to San Nicolás to compete.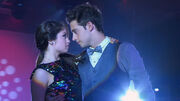 In San Nicolás, Luna realizes her true feelings for Simón when she gets jealous when he goes on a date with another girl. They share a moment when Simón serenades Luna with "Eres" on a bridge. On competition day, Simón doesn't show up before the pair has to compete, forcing Tamara to pair Matteo with Luna instead. At the end of the performance, Matteo unexpectedly kisses Luna, shocking the audience, Ámbar, and Simón, who has finally shown up.
Part 2
Luna and Matteo must face the aftermath of the kiss and Jam & Roller's loss at the competition. Luna is angry at Matteo for kissing her because she believes she has feelings for Simón. After witnessing the kiss, Simón feels like there is nothing left for him in Argentina, so he tells Luna that he's moving back to Mexico after the next Open Music.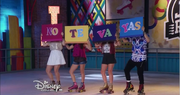 Luna desperately doesn't want Simón to leave, though, so she plans a big surprise for after the Open to ask him to stay. Tired of the same partners over and over again, Tamara creates a twist for the Open Music: the pairings for the Open will be random. Matteo, Simón, and Luna are paired together by chance, which creates many arguments between the trio, as Simón is still furious at Matteo. To make Luna happy, Matteo drops out last minute so that Luna and Simón can perform their last Open together. After the Open, Luna shows Simón her surprise, and he chooses to stay.
Simón soon reconnects with his summer friend Daniela, once again making Luna jealous. To push Luna further apart from Simón, Daniela claims that Luna pushed her down and injured her. When they begin to date, Luna tries to expose Daniela's true colors and break the couple up.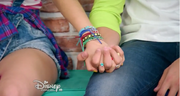 Simón eventually finds out the truth about Daniela and promptly begins to date Luna after they share a kiss. As they date, Luna begins to realize that she still only sees Simón as her friend and not her romantic partner. Simón recognizes this and breaks it off with Luna, promising that they can still be friends. When Matteo catches wind of this, he warms up to Luna once again, asking her to be his partner in the final Open Music of the year.
In the midst of all the drama, Tamara decides to enter Jam & Roller into another skating competition, but this time, instead of pairs, there are big groups. Luna heads a group of her own to combat Ámbar's team for a shot at the official Jam & Roller team.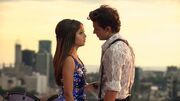 Luna's team ultimately loses, but the teams end up merging, putting Luna in charge once again. Before finals, Ámbar destroys Jam & Roller's prop for their performance. An argument ensues, but the team makes do and Ámbar and Luna finally become friends after coming to an understanding. After the performance, Luna must rush to Simón's televised concert with his Roller Band. At the venue, Matteo meets up with Luna to say his goodbyes before leaving the country with his family. Matteo and Luna share a final kiss.
Season 2
Part 1
Luna has trouble reaching Matteo when she returns from vacation in Cancún. Throughout the part, Matteo continues to act distant, which puts a strain on their relationship. Luna also begins to be curious about her past and goes searching for information on her birth parents with Nina.
Part 2
Luna helps Matteo have many conflicts as a couple and break up multiple times. Her troubles with Matteo push Luna closer to Simón. While in Cancún for Roda Fest, Luna discovers that she is Sol Benson, and memories of her past come rushing back to her.
Season 3
Part 1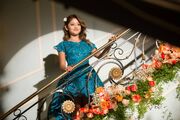 Luna returns to Buenos Aires as the rightful owner of the Benson Mansion. but things start to go very wrong for Luna, Luna later attends a party her grandfather Alfredo organized as a get together with some close friends, but things didn't go as planned as Emilia spills a drink on her dress and Ámbar ruins the party by speaking out against their family. Luna butts heads with the new owner of Jam & Roller, now known as Red Sharks, and takes her skating team to the streets and breaking them apart, not only that but Matteo leaves the team after Luna rejects his feelings. With Ramiro and Matteo gone, with her friends Luna plans an Open Music to be hosted in her home to try and get the Jam & Roller spirit back.
Having connected in Cancún, Luna wants to get back together with Simón, but she backs off when she discovers that he is still hung up on Ámbar.
Part 2
Luna opens the doors of the Benson Mansion to the Roller Band when they lose their apartment and hosts a going away party for Nico when he moves away to New York with Ada. At the party, she gets close to Michel, an exchange student she is hosting in her home. He wants to get together with her, but she realizes that she still has feelings for Matteo. The two eventually reconcile and share a close moment at Luna's 18th birthday party, where he gifts her a necklace with a strawberry (a fresa, like him) in a moon.
Relationships
Romances
Friends
Enemies
Trivia
Her adoptive last name, Valente, and Simón's song for Luna, "Valiente," both mean "brave" in Portuguese and Spanish, respectively.
Her first name, Luna, means 'moon' in Spanish, Romanian, Slovenian, Latin, and Italian.

Her birth name, Sol, means 'sun' in Spanish, Portuguese, Latin, Swedish, Norwegian, and Danish.

She is not good at math or chemistry.
Luna tends to dress in very colorful clothes, and wears a lot of bracelets. Her style can be described as boho-chic.
She suffers from pyrophobia, most likely due to the accident.
She is very ticklish.
She is right-handed.
Gallery
| | |
| --- | --- |
| | To view the Luna Valente gallery, click here. |
References