This is a list of all the minor characters in the Disney Channel Latin America show Soy Luna.
Soraya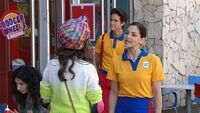 Soraya, nicknamed "the general," is the general manager at Foodger Wheels in Cancún, Mexico. She was the boss of Luna Valente and Simón Álvarez. She is very strict and serious. Soraya has a son in a band.[1] She is portrayed by Veronica Segura.
The Deputy
The Deputy is a friend of Sharon Benson's. He visited her house and noticed that the picture of her sister and her brother-in-law was removed. He is flirtatious with Sharon and thinks she shouldn't be alone. After his meeting with Sharon, he sent her flowers. He is portrayed by Alejandro Aguirrebent.
Rocío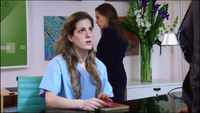 Rocío is an employee at the nursing home where Tino and Cato worked. She is also one of Rey's contacts and helped him get information on the patients and workers of the home. She is portrayed by Rocío Galarraga.
Señora Rodríguez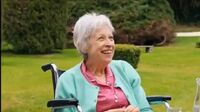 Mrs. Rodríguez is a delusional patient at the nursing home where Tino and Cato worked. She believed that Rey was her boyfriend and that Tino and Cato were her nephews. She likes porcelain dolls, gold rings, and Japanese fans. She has a cat named Jacinto and a relative/friend/pet named Claudia. She is portrayed by Eva Adonaylo.
Roque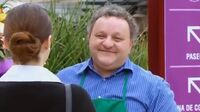 Roque is a florist that works at a cart in the plaza. He flirted with Amanda and gave her a bouquet to take home for free. He also sold flowers to Matteo Balsano, which he gave to Flor. He is portrayed by Fabián Caero.
Alberto Rodríguez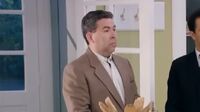 Alberto was a chauffeur that worked in the Benson Mansion before Tino was hired. His duties included driving Luna and Ámbar to Blake South College every morning. Alberto had 10 years of prior chauffeur experience and great references when he was hired by Miguel Valente. His portrayer is uncredited.
Perla & Tomás
Perla and Tomás were partners in the skating competition at Jam & Roller. They made it all the way to the final round at Jam & Roller before getting eliminated. They received first place in the first round, second place in the second round, and third place in the third round. Perla has three pairs of skates which are rainbow/blue, gold, and white colored, while Tomás has two, a blue pair and a black pair. Perla is portrayed by Florencia Moyano, who is credited as a choreography assistant rather than an actor. Tomás is uncredited.
Marcos Gutiérrez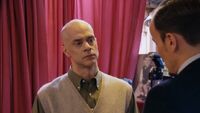 Marcos owns a photography business and helped Roberto Muñoz obtain a fake passport to leave the country with a woman and a child. He was Roberto's only visitor in the nursing home, which led Rey to approach him for information. Marcos was offered a large sum of money to tell Rey about Roberto's dealings. He is portrayed by Gervasio Usaj.
Clara Sánchez Barrenechea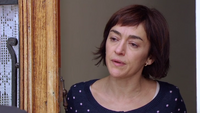 Clara went to Mexico with Roberto Muñoz to drop off a young girl matching the description of Sol Benson at an orphanage. Her information was given to Rey by Marcos, who made her fake passport. She was reluctant to speak until Rey offered her a large sum of money. Her description of the child confirmed to Sharon Benson that her niece is alive. She is portrayed by Lucrecia Gelardi.
Sofía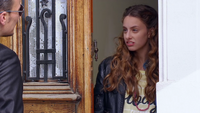 Sofía is the daughter of Clara and is 16 years old. Her age led Rey to suspect that she was Sol Benson. She is portrayed by Melina Gallardo.
Victorino Wang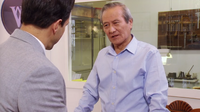 Victorino Wang is the artisan that crafted Sol Benson's medallion. When Miguel asks him for information on the medallion's purchaser, he keeps quiet and informs Rey of the visit. In Season 2, he is paid off by Sharon to lie to the Valentes. He is portrayed by Luis Asato.
Luis Tang
Luis Tang was an employee of Victorino at his jewelry store. He helped to create Sol Benson's medallion and is sought after by Miguel for information on its purchaser. Before he can say anything, he gets a call from Victorino telling him to stay quiet. Luis tells Miguel that Victorino is dangerous. He is portrayed by Mariano Mandetta.
Santi Owen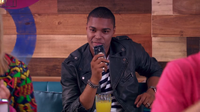 Santi Owen is a very well-known music producer from Brazil. Ramiro knows about him and has tried to meet him. He watched the Open Music in Season 1/Episode 65 and seemed to like it. He returned in Season 2, but only for a short time. He is portrayed by Samuel Do Nascimento.
Oliverio
Oliverio is an unseen character that Delfina meets while on a plane during vacation. Delfina thinks she's in love with him, despite only briefly meeting, and breaks up with Pedro because of it.
He is first mentioned in the Soy Luna de Vacaciones video shorts, and last mentioned in Season 2/Episode 01.
References
Community content is available under
CC-BY-SA
unless otherwise noted.