Gastón Perida is a secondary character on Soy Luna. He is a cool and intelligent boy, who is best friends with Matteo Balsano. Gastón likes to spend his time reading and skating at the Jam & Roller.
He is portrayed by Agustín Bernasconi.
Personality
Gastón is gentle and nice, but also very confident. He respects everyone, but sometimes gets annoyed and gets angry. Unlike his best friend Matteo, he is grounded and trusting. His main interests are skating, music, and girls. As the first season progresses, he starts to get tired of his superficial and shallow world.
History
Before the Show
Gastón enrolled in Blake South College and became best friends with Matteo Balsano. He loves to travel during the summer, and his family has brought him to Thailand among other countries.[2]
Season 1
Part 1
Delfina has a massive crush on Gastón, but he does not reciprocate. He is unknowingly signed up for the International Skating Competition by Delfi and does not warm up to competing until the day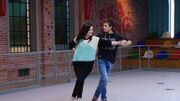 before the competition, leaving them little time to practice. They pass onto the second round and vow to rehearse more, but the arrival of Matteo's cousin Flor distracts Gastón. Gastón tries to woo Flor, but she is uninterested and soon enough leaves Buenos Aires. On the day of the second round of the competition, Gastón and Delfi have no choreography, but Gastón convinces Delfi to perform with him anyway. Their routine is a mess and Delfi is furious with Gastón; she blames him for everything and punches down a sign in anger. The two end up qualifying for the third round, but Delfi's outburst disqualifies them afterwards.
After leaving the competition, Gastón creates the RollerTrack account to talk to FelicityForNow, whose words he has fell in love with.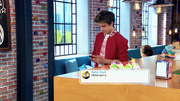 Gastón would like to meet Felicity, but she refuses. Delfina finds out that Gastón is RollerTrack and tricks Gastón into believing that she is Felicity. He dates her for a while, but throughout the relationship, he always stays suspicious of Delfi. After Gastón finds out the truth, he breaks up with her and decides to look for casual relationships instead of serious ones. At first, Gastón stays angry with Delfi, but, with convincing, Gastón forgives Delfi and agrees to stay friends.
Part 2
TBA
Season 2
Part 1
In the beginning of the season, he is torn, because his mom wants him to go to Oxford, but he wants to stay in Buenos Aires with Nina. Behind his back, Nina applies to Oxford for him, and he gets mad at Nina and wants some time alone. Gastón is also on the team for Roda Fest and is really happy when they make it. After some time apart, Gastón wants to forgive Nina, but Xavi comes back and confuses Nina's feelings.
Part 2
When the team loses at Roda Fest, Gastón is really upset.
At the end of part 2, Gastón moves to England to study at Oxford.
Season 3
Part 1
Gastón briefly returns to Jam & Roller to see his friends and girlfriend. After realizing that long-distance isn't working, he breaks up with Nina.
Part 2
Gastón does not appear in the second part due to him still attending Oxford, aside from appearing through archival footage of past seasons. However, he is mentioned a few times by Nina. When Eric kisses Nina, she quickly rejects him and says that she only sees him as a friend because she still thinking about Gastón, even though the girls try to make her understand that he is not coming back. In Season 3/Episode 59, Gastón calls Nina to check on her. He is happy for Nina after she tells him that she and Eric are together. The two remain close friends.
Relationships
Romances
Friends
Trivia
His favorite color is green.[3]
He can play the piano.
He likes to read, but he does not consider himself nerdy.
He would rather read a book than dance.[4]
Before the Chicas vs Chicos Open Music, Gastón had never participated in one.[5]
According to Jazmín, he is a Libra,[6] which would mean that he is born sometime between September 23 and October 22.

This would also suit his personality, as Libras are described as having "constant mental stimuli, strong intellect, and a keen mind." and as being "inspired by good books, insurmountable discussions and people who have a lot to say.".[7]

Gastón is credited as a main character throughout Season 3, despite making only a handful of appearances in the beginning of it, aside from appearing through archival footage during the final episodes.
He has only dated two female main characters who either pretended or were FelicityForNow, which would be Delfi and Nina.

However, the circumstances behind those breakups were different. Gastón broke up with Delfi after realizing the deception while he broke up with Nina due to the long-distance struggle while attending Oxford.

He is the third male main character to depart the series and the fourth main character overall.
Gallery
| | |
| --- | --- |
| | To view the Gastón Perida gallery, click here. |
References
Community content is available under
CC-BY-SA
unless otherwise noted.