Delfina is a character in the Disney Channel Latin America show Soy Luna. She is portrayed by Malena Ratner.
Personality
Delfina is very alike her best friend, Ámbar. She is wealthy, capricious, and superficial. She is very stylish and tries her best to be unique, but lives in the shadow of Ámbar and is easily led astray by her. She is also shown to be ditzy and a little dumb at times. Even so, Delfina can still be manipulative when needed. When she's lovestruck, she's capable of anything. She can be very stubborn and has a hard time letting things go when there is something she really wants.
After she falls in love with Pedro, and even more after she stops being friends with Ámbar, she changes for the better and becomes an overall better person. She becomes a sweeter, more humble and more compassionate person, which, presumably, is the real Delfina, without the influence of Ámbar. She also relizes that friendship and love is about the person's personality and heart, not about their looks and status.
History
Season 1
Part 1
She is best friends with Ámbar and Jazmín. While Ámbar is in Cancún, Jazmín and her video chat with Ámbar. She and Jazmín tease Nina, who is sitting near them. When Ámbar gets back, they have a small get-together and talk about Luna. At Jam & Roller, Delfina is shown to have a small crush on Gastón. She video-tapes Ámbar as she shows off her moves. When Ámbar loosens Luna's skate wheels, she stands guard and makes sure no one sees them.
As the first season progresses, Delfina starts to have her own interests and problems, such as Gastón and the skating competition. However, everytime she tries to talk about herself or pursue her own goals, Ámbar immediately brings the attention back on herself.
Part 2
Season 2
Part 1
Part 2
Relationships
Friends
Best Friend
See: Jazfina
They are best friends and partners in crime. They often help Ámbar with her plans. They have a vlog/blog page called "Fab and Chic" where they talk about fashion and Matteo and Ámbar's relationship. They are alike in that they are sometimes dumb and ditzy, but are overall very loyal friends.
Former Best Friend
See: Ámfina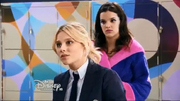 Ámbar and Delfina are best friends. They are very alike personality-wise as they are both rich, manipulative and dislike people messing with their plans. They often try to destroy Luna's life, along with Jazmín, but it doesn't always go to plan. In Season 2 Delfina ends her friendship with Ámbar after she realizes that Ámbar is even willing to betray her best friends to get what she wants.
Boyfriend
See: Pelfi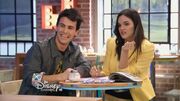 Pedro and Delfina are dating. Even though at the start of the series Delfina did not think much of Pedro, his kind and caring nature led him to care for Delfina and start helping her with her feelings towards Gastón. Jazmín has asked Delfina if they are just friends, or something more, but she said they are just friends. Delfina has admitted to Nico that she likes Pedro. As of Season 1/Episode 76 and Season 1/Episode 77, they have been on a date and are dating. In Season 2, Delfina broke up with Pedro, because she met another guy, Oliverio. Soon after, she sees another girl who is into Pedro, so she tries to reconcile with him.
Romances
Ex-boyfriend
See: Gasfina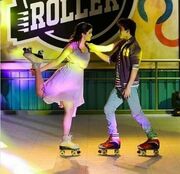 Delfina had a crush on Gastón. It was often shown that Gastón got annoyed by Delfina and knew that she had feelings for him. They were partners in the International Skating Competition. For both round 1 and round 2, they danced to "Corazón" in the competition. In the first round, they did well and were pleased with each other, but in the second round they barely scraped through to the next phase of the competition and argued constantly with each other. Delfina found out that Gastón was in love with FelicityForNow, and pretended to be her so she could go out with him. She later told Jazmín that they went on six or seven dates and she called him her "ex-boyfriend".
Trivia
Her partner for the skating contest was Gastón.
She lied and told Gastón that she was FelicityForNow.
She has a small chain with the letter 'D' on her skates.
The meaning of Delfina is 'dolphin'.
She used the name "Intensity" to comment on FelicityForNow's posts.
In the UK dub, she will be voiced by Clarice Burton.[2]
She had a pet hamster named "Froiland" when she was younger.[citation needed]
She almost considers it her "full-time job" to keep Jazmín from saying the wrong things.[3]
She tends to be very indecisive.[3]
If she is alone, she prefers watching tv over going to the cinema, but if she's with friends, she prefers going to the movies.[3]
She likes to wear slippers when she's at home.[3]
Gallery
| | |
| --- | --- |
| | To view the Delfina gallery, click here. |
References
Community content is available under
CC-BY-SA
unless otherwise noted.