Ámbar Smith is the main antagonist of Soy Luna. Ámbar does everything in her power to be the best and feels threatened by new girl Luna Valente. Her intelligence leads her to craft complicated schemes to get Luna out of her life for good.
She is portrayed by Valentina Zenere.
Personality
Ámbar is a person who has never had to work for money. She is superficial and capricious, but also very intelligent. Ámbar is the type of girl that catches everyone's attention and is very popular. She will do anything to get what she wants and has friends to support her and her bad deeds.
When trying to get what she wants, Ámbar is mean, condescending, and manipulative. Despite all of this, she yearns for the acceptance of her peers and most importantly, her godmother. Although she won't admit it, she is jealous of Luna's relationship with her parents.
After Matteo breaks up with her, Ámbar becomes even angrier than before, but also learns to hide her hate towards Luna, dropping it all at once at the right moment. Even though Ámbar often does things out of selfishness, it is shown multiple times that deep down she has a good heart and is able to show genuine kindness to other people.
Character History
Early Years
Ámbar was at a young age given up for adoption by her mother Sylvana Ariel, since she was too young to raise a child. Sharon Benson adopted her, but chose not to tell her nor anyone else about her mother. Instead, she told everyone that Ámbar's parents were important businessmen that traveled often throughout Europe, and that she lived with Sharon instead since Sharon was her godmother.
Ámbar has been skating since she was a little girl, and she participated in her first competition when she was just six years old.[1] She was also a Girl Scout and the leader of her troop.[2]
Before the Show
Ámbar had been dating Matteo Balsano for some time, and they had become the focus of her best friends' channel Fab and Chic. Right before the events of the show, Ámbar had been vacationing in New York with her godmother and Rey.
Season 1
Part 1
While in Cancún, Ámbar has trouble reaching Matteo, and soon sees that he's harboring feelings for Luna Valente.
When she discovers that Luna will be moving into her house in Buenos Aires, she vows to get Luna out of her life for good through any means possible. Ámbar locks her in a classroom to keep her from participating in the first round of the Freestyle Competition, switches her tests at school so that she'll be unable to go to the Roller, and tries to prevent her from performing in the final of the skating competition by having her kidnapped. All of her plans are futile, as Luna is able to rise above it all. Little by little, Luna is chipping away at Ámbar's title of "the queen of the rink."

Throughout the first part, Ámbar and Matteo break up twice, but get back together both times. Finally, Matteo has enough of Ámbar's schemes to keep Luna out of the final and breaks up with her once again in San Nicolás.
Part 2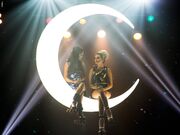 After breaking up with Matteo, Ámbar tries to stop him and Luna from becoming a couple, but she cannot stop their love. She later steals Sharon's crystal swan and blames the theft on Miguel to get the Valentes fired and Luna out of her way, but Matteo finds her out and forces her to come clean to Sharon. Sharon punishes Ámbar by forbidding her to go to Roller. Eventually Ámbar teams up with Simon's girlfriend Daniela as they share a common enemy in Luna. In the season finale, Ámbar and Luna are able to put aside their differences and perform together in the Intercontinental Skating Competition.
Season 2
Part 1
Ámbar returns to her malevolent ways and begins to talk to herself often in the mirror.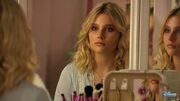 Seeing Luna with Matteo sing together at Roller Jam makes her so upset that she tries to cut their performance short by destroying the sound system by pouring her drink over the electricals. In doing so, she inadvertently starts a fire that burns down the rink. Ámbar is able to hide her culpability from Vidia, but tells Delfi and Jazmín.

Sharon tells Ámbar that she is Sol Benson in order to keep the Valentes from finding out the truth. Ámbar is unaware of her mother's schemes and presents herself as Sol to the world.
Part 2
Sylvana visits Jam & Roller and reveals to Ámbar that she is her birth mother and that Ámbar is not Sol Benson. Distraught with this new information, Ámbar confronts Sharon about it and is told that she needs to continue pretending to be Sol if their fortune is to be protected. She keeps up with appearances, but eventually the truth comes to light that she is not Sol Benson.

Simón finds out that Ámbar was the one that set fire to Jam & Roller and tells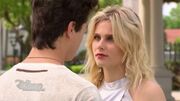 Juliana, who informs Vidia, threatens to tell police, and kicks her off the team. Sharon is able to bury the incident, but refuses to let Ámbar study in Paris after graduating as a consequence of her actions. To prove to the Jam & Roller team that they are nothing without her, Ámbar joins Emilia's Sliders team. With her new team, Ámbar wins Roda Fest. During the competition, Sharon's schemes are exposed, and she goes on the run, leaving Ámbar behind in Mexico.
Season 3
Part 1
Ámbar returns to Buenos Aires with the Valentes, but has trouble adjusting to her new living situation with Luna in charge of the mansion.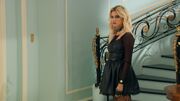 She is broken from the events of the past season and has gone completely dark, declaring in "Claroscuro" (Chiaroscuro) that there is no "good" Ámbar left. In the rink, Ámbar handles the new ownership of Jam & Roller, now known as Red Sharks, in stride and joins the new skating team. She keeps in contact with Sharon and tries to help her with her revenge.

Having ruined her first relationship with Simón Álvarez, Ámbar retains her feelings for him, but gets closer to Benicio, starting a relationship with him instead.
Part 2
After Gary leaves Red Sharks, Ámbar is put in charge of the business and hosts her first Open Music.
The dealings of Emilia and Benicio get in her way, though, and she is fired by Vidia. Ámbar has a change of heart in the final episodes of the season, befriends Luna, and joins Jam & Roller at River Live Fest. After the Benson mansion goes up in flames, Sharon is left blinded and Ámbar visits her in the hospital. Sharon apologizes to her daughter and is forgiven by Ámbar.

Ámbar splits from Benicio and Emilia and is able to work through her differences with Simón. They end the series happily together.
Juacas
Ámbar makes an appearance in Season 2, Episode 17 ("A estrela dos Red Sharks") of Juacas, a Disney Channel Brazil original series.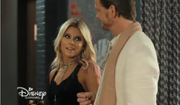 The episode premiered after the season finale of Season 3, but chronologically takes place in the middle of Season 3, when Ámbar is still rude to everyone and dressing in all black.

Gary López brings Ámbar to Brazil, and she meets up with her fans. Ámbar participates in an interview in Portuguese and performs her song "Claroscuro" at Gary's Red Sharks restaurant. She is flirtatious with star surfer Rafa, which upsets his love interest Leilane.
Relationships
Romances
Friends
Enemies
Trivia
Her roller skates have an embroidered 'A' on them.
She knows that Sharon is her adoptive mother, but they pretend that she is her godmother.
She is a straight A student.
She was once the coordinator of the Physics Club, Advanced Mathematics Club, and Comparative Literature Club.[2]
Her name in the French dub of Soy Luna is Ambre, and her name in the Italian dub is Ambar without an accent over the A. [3]
Curiously, in the first episode of Season 1, when Ámbar calls Matteo while he is skating in the streets, the caller id shows her name spelled without the a-acute.
She has a birth mark on her hip in the shape of a star.
Her school bag is gold and black.
She hates rose gold.
In one of her closets, she has three pairs of skates, six bags, and fifteen pairs of shoes.[4]
She has the best GPA in Blake South College.[5]
She hates pineapple.
Ámbar has visited London.[6]
She can speak English and French fluently.
In the second season she is often seen talking to herself in the mirror.
Her exact birth date is unknown, but her birthday should be sometime during late November to early December, since she had her birthday party in Season 1 shortly before summer break, which in Argentina usually starts sometime early to mid-December.
She, along with Luna, Simón and Jazmín is one of the only main characters to appear in all of the show's episodes.
With three different boyfriends, she is the main character that has been in the most relationships, tied with her current boyfriend, Simón.
Gallery
| | |
| --- | --- |
| | To view the Ámbar Smith gallery, click here. |
References
Community content is available under
CC-BY-SA
unless otherwise noted.